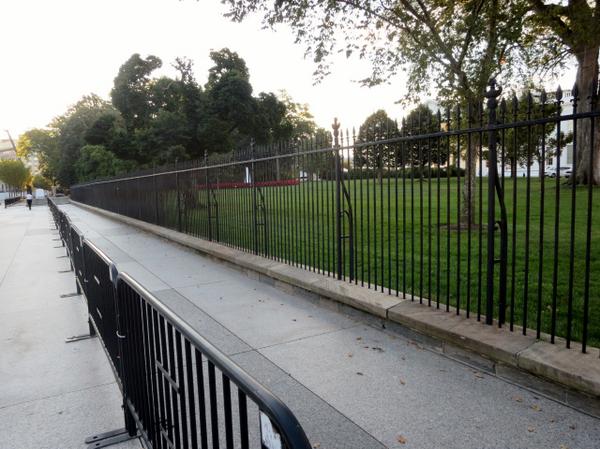 Completed Barrycade
US Government Erects Border Fence Around White House in Record Time.
Back on October the 13th, 2013, American Patriots foresaw the coming threat to our Glorious President of these United States. These brave souls took it amongst themselves to donate their labor to erect a border fence around the White House. These men, women and children however, were met with Federal forces, denying them the opportunity to build without consent.
The people, being law-abiding citizens, were forced to abandon their great effort mid-stride, lest they be thrown into the stockades. City officials sent out their enforcers, claiming no building permit was applied for. In addition to this, Labor Unions descended upon them, citing division of labor laws, and claiming "the people" had not paid their proper Union dues and therefore would not be allowed to build.
Barrycades: Return to Sender
The People then stacked the Barrycades in disgust, mere feet from their intended erected position, abandoning their dreams to protect their leader. The people returned home, broken and defeated.
Upon the abandonment of the border fence, the US Government steps in to complete the fence with proper permits and labor. But there the Barrycades sat, mired in bureaucratic red tape until September the 19th, 2014 when a man scaled the White House perimeter fence, rushing inside to warn the President of his vulnerability. Omar Gonzalez was successful in his daring dash, for government forces finally erected the White House Border Fence on September the 23rd, 2014.
President Obama then invited all the people who attempted to build the fence initially for a christening ceremony, where he declared to the people: